Peach Galette.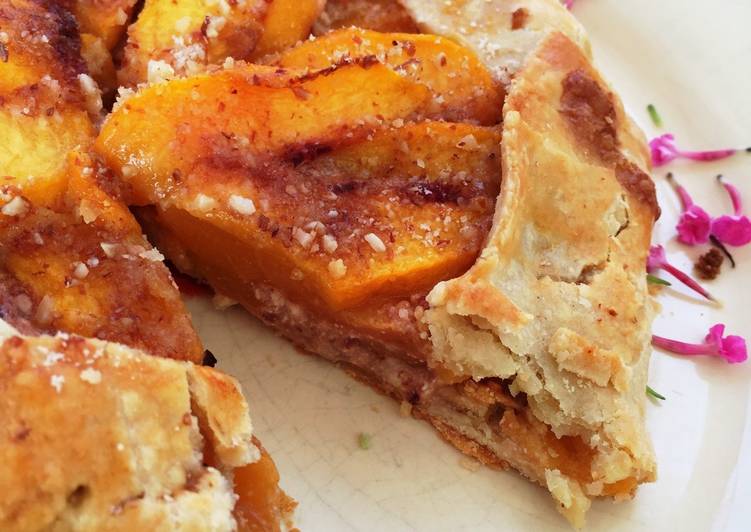 You can have Peach Galette using 13 ingredients and 17 steps. Here is how you cook that.
Ingredients of Peach Galette
It's 3 ounces of Cream cheese room temperature ,.
It's 1 tablespoon of Dark brown sugar.
It's 2 tablespoons of Jam peach apricot , or.
It's 1 teaspon of Cinnamon ,.
Prepare 1/3 cup of Sugar , white.
It's 2 tablespoons of sugar Raw , (regular can be subsitited).
You need 2 cups of Flour ,.
It's 1 of Butter , cold unsalted cut into pieces 1/2 inche pieces stick.
It's 1 teaspoon of Salt ,.
You need 2 of Eggs ,.
Prepare 1/4 cup of water Cold ,.
You need 3 of Peaches (ripe), medium size.
Prepare 1 of Lemon ,.
Peach Galette instructions
Preheat oven to 375F. Line a sheet pan with parchment paper..
For the filling: In a bowl, mix softed cream cheese, brown sugar and cinnamon. Set aside.
For the crust: In a separate bowl pinch together flour, salt and butter with fingertips until most of the large chunks of butter are broken up and flattened..
In a small bowl, whisk one egg and the ice water until well combined. Add the egg mixture into the flour. Mix until it binds together and forms a rough ball. Gently knead the ball to get the last of the flour..
Divide the ball in two, roll each half then flatten each ball into a disk. Wrap one ball with plastic wrap and store in refrigerator or freezer to use another time..
On a floured surface, roll out disk into a circle that is slightly larger then 10 inches in diameter..
Trim the dough into an even 10 inch circle. I use a large glass bowl as my template..
Very gently wrap dough around rolling pin then unroll onto the parchment paper..
Slice peaches in half, removing pit. Peel and cut into even. Place peaches ina medium sized bow. Sprinkle 1/3 cup of regular sugar and squeeze on half lemon. Set aside..
Spoon cream cheese filling into the middle of the pie crust. Spread the mixture out evenly to within about 2 inches of the outside edge. Place jam into the center of the cream cheese mixture and gently spread over cream cheese mixture..
Place peaches into one or two layer over the jam and cream cheese mixture.
Whisk second egg. Set aside..
Fold the edges of the dough over the peaches.Whisk second egg. Set aside..
Brush crust with egg mixture..
Dust the top of the galette with raw sugar..
Bake for 40-60 minutes or until crust is golden brown and filling is slightly bubbling. Turn half way through baking so the crust bakes evenly..
Serve warm..