Fit Girl Cherry Pie Fridge Oats. You can make several of these cherry pie fridge oats all at once, leave them in the fridge and so every morning, you have an easy and healthy to go breakfast. Do you stir it before you refridgerate it? the fit girl guide mentions it but your recipe does not. Just curious if that changes how it turns out.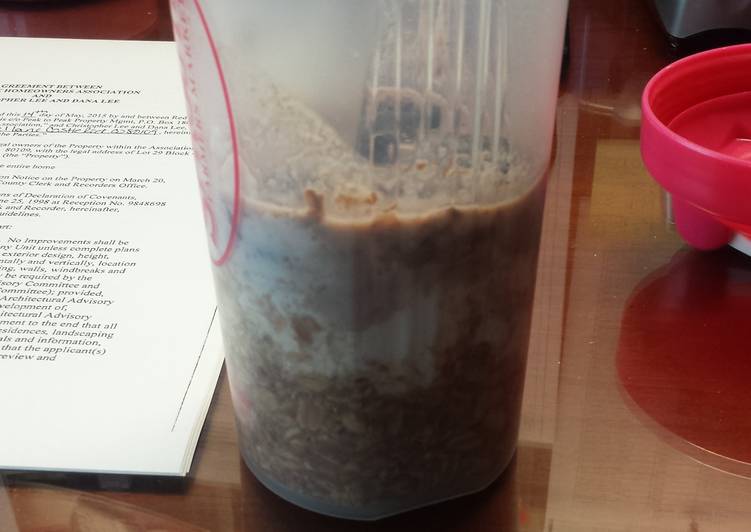 Bob's Red Mill Extra Thick Rolled Oats. See more ideas about Fit girls guide, Fit girls guide recipes, Fitgirlsguide. Mix the almond butter, honey, vanilla extract and pinch of salt in a bowl. You can have Fit Girl Cherry Pie Fridge Oats using 6 ingredients and 4 steps. Here is how you achieve that.
Ingredients of Fit Girl Cherry Pie Fridge Oats
It's 1/3 cup of Steel cut oats such as Bob Mills Gluten Free Oats do not use instant oatmeal.
You need 1/3 cup of Almond milk, unsweetened or I prefer the dark chocolate.
You need 1 packages of Chobani Cherry Greek Yogurt, plain or vanilla can also be used.
Prepare 1/2 cup of Frozen unsweetened cherries.
You need 1/3 cup of Chia seeds optional.
You need 1 tbsp of Honey if using unsweetened yogurt and almond milk.
Pour in the oats and Go do one of the exercises from our books. or just stare at your fridge door as if that'll make them get done quicker. Cherry pie overnight oats is a great way to use fresh cherries and a quick & easy breakfast option for those busy mornings where you need to grab and go! So then I get stuck with cafeteria food at work or I grab some toast from the fridge and put peanut butter on it. These oats get their big protein boost from Greek yogurt.
Fit Girl Cherry Pie Fridge Oats step by step
In a jar or cup with a lid, start by putting oats and chia seeds in the bottom of the cup..
Then add in almond milk..
Next stir yogurt add in honey if plain yogurt and put into jar..
Finally, top with frozen cherries. Put jar in the fridge overnight. Viola, grab and go breakfast..
Greek yogurt is one of my favorite ingredients in healthier baking, and because it's so. This homemade oatmeal crumble cherry pie is made in honor of this year's cherry blossom season. I would probably be one of those strangers! I was the girl in high school who read everywhere and always brought a book to the lunch table. So, I've been thinking…how would you ladies like it if I did a little Meal Prep Recipe Series??