Bruschetta with Goat Cheese and Tomatoes. For me, Bruschetta has to be tomato and basil. Add cherry tomatoes to a bowl along with olive oil and In a small food processor add goat cheese and garlic powder. Blend until cheese looks whipped and soft.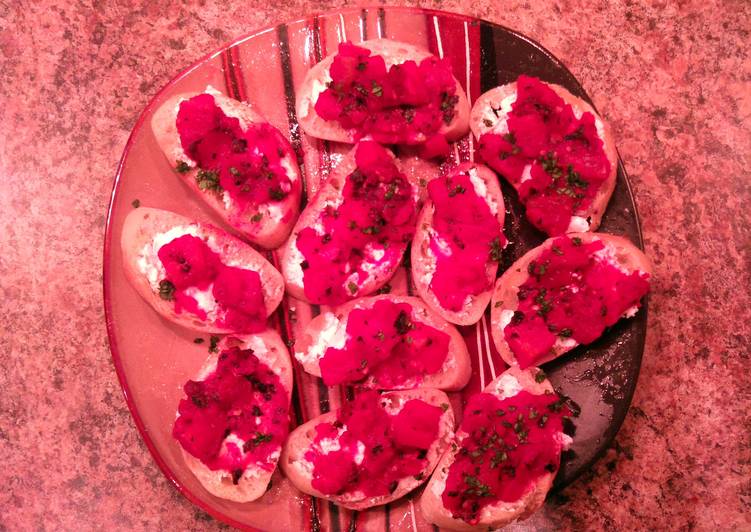 Spread goat cheese over toasts; arrange on baking sheet. Mound tomatoes on toasts, dividing equally. You can make the goat-cheese mixture the day before — but bring it to room temperature before using, and assemble the bruschetta just before serving. You can have Bruschetta with Goat Cheese and Tomatoes using 9 ingredients and 3 steps. Here is how you cook it.
Ingredients of Bruschetta with Goat Cheese and Tomatoes
You need 12 slice of 1/2 inch thick French Baguette.
It's 2 tbsp of Olive Oil.
You need 2 large of Garlic Cloves, halved.
It's 6 of Roma Tomatoes, seeded and chopped.
It's 1 tsp of Fresh Lemon Juice.
It's 4 oz of Soft Goat Cheese.
You need 3 tbsp of Fresh Basil, chopped.
It's 1 of Sea or Kosher Salt.
Prepare 1 of Ground Black Pepper.
For an even lovelier presentation, use a mix of red and yellow tomatoes and sprinkle with snipped chives. In a medium mixing bowl, add chopped tomatoes, finely minced garlic, olive oil, balsamic vinegar, and basil together. Rub halved garlic clove over the toasted side to infuse bread with flavor. Spread with goat cheese to taste.
Bruschetta with Goat Cheese and Tomatoes step by step
Preheat oven to 325°F..
Arrange slices on baking sheet and brush each side with olive oil. Bake the bread until toasted (about 4 minutes) per side. While still warm rub one of the cut sides of garlic over one side of the toast. Then top with a smear of goat cheese ..
In a small bowl combine the tomatoes and lemon juice. Top each toast with tomato mixture and sprinkle with basil. Season with salt and pepper..
Spoon tomato mixture on top of the. Bruschetta is all about getting the perfect blend of tomatoes, onions, garlic and basil together and immersing them in olive oil to bring out their intense flavours. When this blend is placed on top of toasted garlic bread and drizzled with balsamic glaze, gastronomy is born. I am not going to lie, this is. Eat to Beat Diabetes, Reader's Digest.