Roasted leg of lamb and chimichurri. This short video demonstrates how to use Latasha Kitchen's zesty Orange Chimichurri & Jalapeño Relish to create a wonderful thick pesto like marinade as a. Have you ever roasted a leg of lamb? It may sound intimidating, but the sweet little secret is that leg of lamb is actually one of the easiest, most Here are some expert tips from Jamie Smith at Bluescreek on what to look for in lamb, and how to cook it.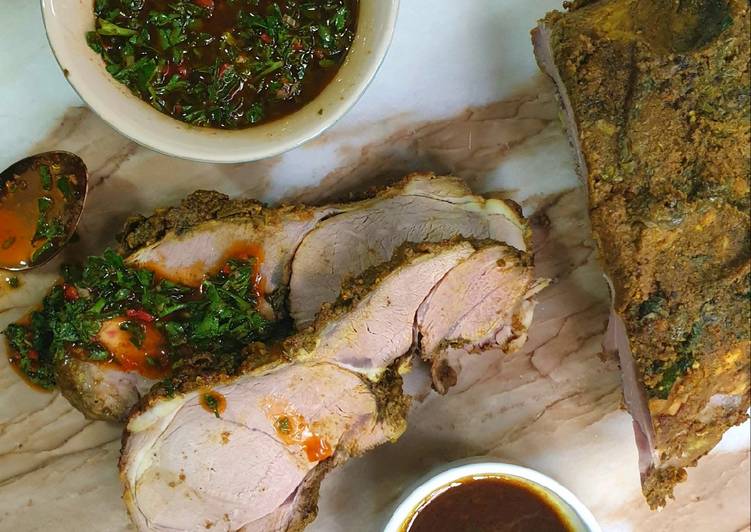 For the leg of lamb, whisk all of the ingredients, except for the lamb, together. Place the lamb in a large Ziploc bag and pour in the marinade. Serve the meat on top of the puree and add a generous drizzle of the chimichurri sauce. You can have Roasted leg of lamb and chimichurri using 22 ingredients and 3 steps. Here is how you cook that.
Ingredients of Roasted leg of lamb and chimichurri
You need of Marinade.
You need 2 kg of deboned leg of lamb.
You need 5 ml of tumeric.
You need 15 ml of ground coriander.
Prepare 15 ml of ground cumin.
You need 2.5 ml of ground cinnamon.
You need 1 ml of ground cloves.
You need 4 of garlic cloves.
Prepare 60 ml of olive oil.
You need 60 ml of lemon juice.
You need 40 g of fresh coriander or flat lead parsley.
You need of Lamb roast.
It's To taste of salt.
It's To taste of pepper.
Prepare of Chimichurri.
It's 30 ml of white vinegar.
You need 50 ml of olive oil.
Prepare 5 ml of parika.
Prepare 10 g of fresh coriander.
You need 15 g of fresh curly parsley.
It's 1 of red chilli.
Prepare 1 of garlic clove.
Scatter the pomegranate seeds, pine nuts and micro herbs on top. Roasted Leg of Lamb – This recipe is so good yet it doesn't require too much time, effort or ingredients. It's easy & fool-proof, even for you first-timers! Place lamb, fat side up, on a rack in the prepared roasting pan.
Roasted leg of lamb and chimichurri instructions
Marinade: In a pestle and mortar, grind garlic cloves together. Add turmeric, ground coriander, cumin, cinnamon and ground cloves and grind until a paste forms. Add finely chopped fresh coriander or parsley, olive oil and lemon juice. Mix well. Rub the paste on the lamb. Refrigerate for 4 to 24 hours..
Roast: Preheat oven to 140°C. Remove lamb from the fridge and let it come to room temperature. Season with salt and pepper. Roast for 2.5-3 hours. Rest the meat for 15-60 minutes..
Chimichurri: Roast garlic for 5 minutes in preheated 180°C oven. Chop roasted garlic finely. Chop fresh coriander, curly parsley and red chilli finely. In a bowl, mix white vinegar, olive oil, paprika, chopped coriander, chopped parsley, chopped red chilli and chopped roasted garlic together. Serve with lamb. Store in an airtight container in the fridge..
Spread garlic mixture evenly over the lamb, rubbing in thoroughly into the scored cuts. In a roasting pan fitted with a roasting rack place the lamb, fatty side up, on the rack and place it in the center of the oven.. Having the leg elevated off the bottom of the pan will allow for more even roasting. A simple and elegant one pan roasted lamb and potato recipe cooked to perfection and drizzled with an herb infused chimichurri. This recipe will work JUST AS FABULOUSLY with boneless leg of lamb though.