Oma's German Potato Salad.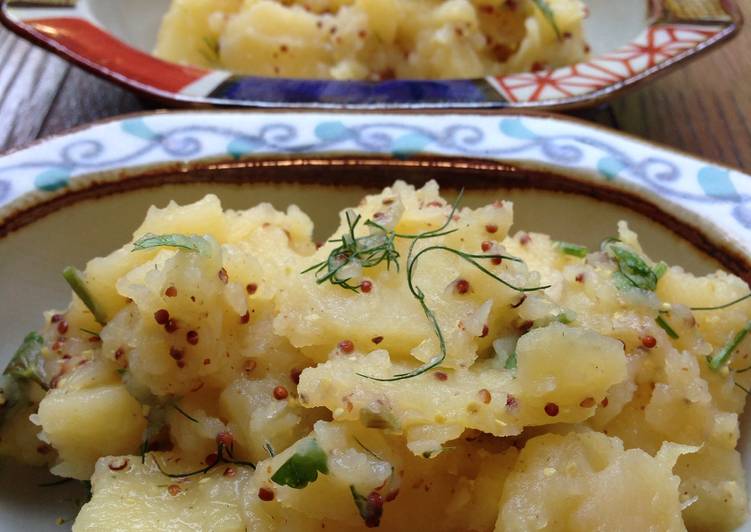 You can have Oma's German Potato Salad using 9 ingredients and 7 steps. Here is how you achieve that.
Ingredients of Oma's German Potato Salad
It's 500 g of potatoes.
It's 1/2 of onion, minced (optional).
Prepare 1 Tbsp of whole grain or Dijon mustard.
It's 2 Tbsp of apple cider vinegar.
It's 2 Tbsp of olive oil.
You need 1/3 cup of hot chicken or vegetable broth.
Prepare to taste of salt and pepper.
You need 1 pinch of sugar.
It's 2 Tbsp of chopped fresh dill and/or parsley.
Oma's German Potato Salad step by step
Add unpeeled potatoes in a pot of water with 1 tsp salt. Bring to a boil and cook for about 20 minutes or until you can easily pass a fork through the center..
Meanwhile, mince onion if using. My grandma preferred onions but my mother always leaves them out. You can sauté it a little to soften the sharpness if you want..
Drain potatoes and let potatoes cool until you can hold them with your hands and peel them. Peel away skin away with a butter knife. Slice into a bowl and add onions if using..
Mix together warm broth, mustard, vinegar and oil..
Pour mixture over potatoes and stir well. Add dill/parsley, and salt and pepper to taste..
Let sit for 30 minutes to one hour to let the flavor set in. Adjust taste with more salt and pepper, or add a little more mustard and vinegar if you like. If the vinegar is too sharp add a pinch or two of sugar..
When you have it tasting the way you like it, garnish with parsley/dill and enjoy!.